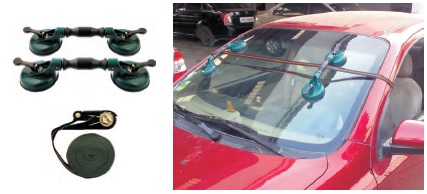 Features:
4 – 5/8 diameter rubber suction cup.
High impact plastic construction.
Suction cup for secure grip.
For one person auto glass repair.
Capacity 154 lb.
The strapping machine helps secure glass at the right place and does not allow the glass to slip away from the pinchweld.
With suction cups secured to the glass, strapping machine gives equal pressure on all Four Sides.
Fixes it right………….the First Time !!!!!